This Tuesday 26th August is International Dog Day and to celebrate, Dogs Unite, a Guide Dogs initiative, is calling on all dogs to become heroes for the day, by taking part in a sponsored dog walk to raise vital funds for Guide Dogs.
By signing up to their own 'My Dogs Unite' sponsored walk, K9 crusaders will be sent special superdog capes, to help turn the ordinary dog walk into an extraordinary one – changing the lives of those living with sight loss by raising vital funds for guide dogs and as they walk.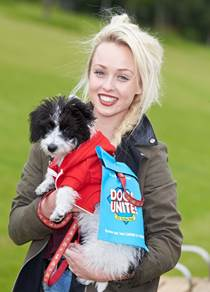 My Dogs Unite walks can take place either on International Dog Day or at any time this summer, and those signing up can also nominate their friends to do the same. Dogs and their owners taking part will be helping Guide Dogs to support more people who are visually impaired to lead confident, independent and active lives.
To help mark International Dog Day, Dogs Unite has also been asking the nation to name their ultimate doggy heroes. Researchers found that legendary Lassie topped the charts of the poll (40%), followed by World Trade Centre hero, Trakr (16%), with Buddy, the very first guide dog, in third place (14%).
The top 5 famous dog heroes are:
1. Lassie – The well-loved TV character Dog made famous for always saving the day
2. Trakr – The dog made famous when, together with police officer James Symington, he helped dig through 30 feet of unstable debris at the World Trade Center "ground zero" site and located the last human survivor of the attack
3. Buddy – Thought to be the first ever guide dog, Buddy was trained after WW1 to help blind veterans
4. Vidar – The army dog due to be put down due to PTSD but was rescued by the Soldier whose life she saved in Afghanistan
5. Gelert – The legendary dog wrongly thought to have killed a baby – whose life he in fact had saved by protecting the baby from an attacking wolf
To give your dog the chance to be a hero, register at: www.guidedogs.org.uk/dogs-unite