Our dogs are part of our families and those who have suffered the loss of one of their dogs will know all too well how sad a time it can be. One lady has taken steps to produce a keepsake that not only looks beautiful, but allows you to remain close to your departed friend.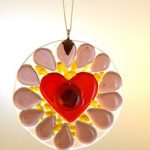 In a picturesque village just outside of Lancaster, Sarah Livingstone, an inspirational glass artist, has been producing a series of enchanting decorative products for those unfortunate enough to have recently lost their beloved four-legged friend. The range is known as memorial glass.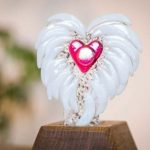 The delightful series of With Love & Light memorial glass products are unique in that each one can incorporate a pinch of the ashes from your departed pet. Sarah was inspired to carefully and respectfully include such a personal element into her products having lost her dog herself three years ago and set about adapting her existing designs for the special pets in our lives.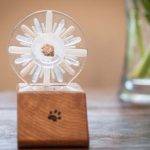 The memorial glass art on its own is to be marvelled at. The intricate designs, bold, bright colours and superb handmade craftsmanship make them a beautiful addition to someone's home in their own right. The choice of such beautifully coloured glass means that it is not a passive ornament; when the light changes and catches the glass at different angles, it sends twinkles of uplifting light around the room and is a glorious reminder of all of the happy times you experienced with your dog. A short glance at With Love & Light's customer testimonials will show you just what a welcome reminder that is proving to be for people.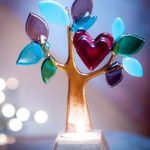 You can choose from a range of existing designs available and, for every pet memorial glass product purchased, a donation will be made to the RSPCA. If you are looking for something a bit more personalised, Sarah will be more than happy to try and accommodate your wishes into a unique design.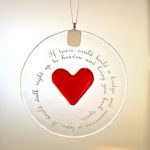 With Love & Light has really found the right balance between aesthetics and sentiment, recognising how strong a bond we develop with our dogs and paying tribute to that is something all of us dog owners really appreciate