Pembrokeshire Tourism and Burns Pet Nutrition have launched the first ever Dog Friendly Pembrokeshire Tourism Awards. The awards are designed to encourage responsible pet ownership and recognise the efforts of outstanding local businesses throughout the county who are helping to make Pembrokeshire a dog friendly destination for visitors.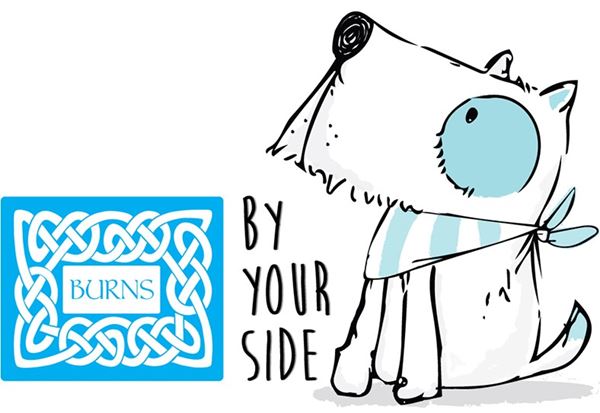 The open spaces of Pembrokeshire are becoming increasingly attractive for dog owners as a holiday destination and with miles of fantastic coastline there's every opportunity for the holidaying pooch to enjoy themselves just as much as their owners without having to endure the trauma of separation. Many of Pembrokeshire's tourism providers and businesses are dog friendly and their numbers are increasing as demand to accommodate four legged visitors continues to rise.
Tourism Liaison Manager; Dennis O'Connor said "The tourism economy is extremely important to Pembrokeshire and with an increase in staycations reported last year the Dog Friendly Pembrokeshire Tourism Awards present us with a unique marketing opportunity. We are delighted to be collaborating on this with Burns Pet Nutrition, a highly respected and ethical company and pleased that the awards will be judged by the Burns by Your Side Reading Dog teams who already do so much excellent work in communities across the county"
Environmental impact is a vital consideration for tourism providers in the county and Pembrokeshire Tourism together with the team at Burns Pet Nutrition are working with the Pembrokeshire Coast National Park Authority to stress the importance of visitors helping to keep Pembrokeshire dog friendly by following the Countryside Code, respecting other people and their animals and protecting the natural environment to make sure everyone can enjoy our great outdoors.
Burns By Your Side is part of the Burns Pet Nutrition Foundation – a charitable trust set up by John Burns to improve the lives of people and pets. Since 2015, Burns By Your Side reading dog teams have worked with local schoolchildren to improve literacy and confidence skills across the county. Reading can often be a scary experience for a child, but it has been proven that reading to a canine companion reduces stress levels and creates an environment where children feel empowered and positive.
Speaking about the launch of the awards, Veterinary Surgeon and business owner John Burns said "We're thrilled to have the opportunity to promote our Burns By Your Side reading dog project while rewarding the amazing dog-friendly tourism businesses that Pembrokeshire has to offer".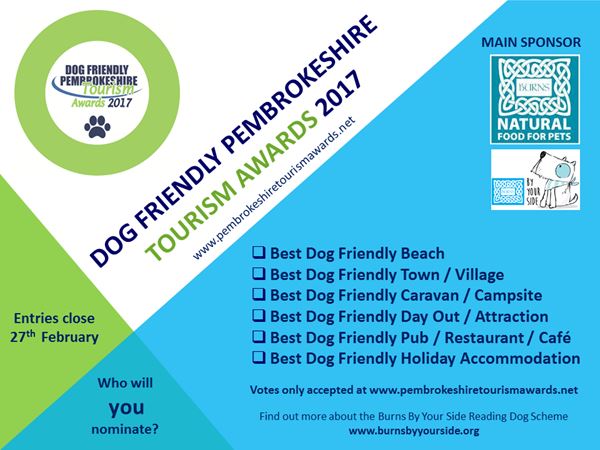 The categories for the awards are:
Nominations for the awards are open until midnight on Monday 27th February. Judging will take place 1-31st March before the awards winners are announced at a special ceremony at Slebech Park Estate on 23rd May.
Members of the public, visitors, tourism operators, community councils and local tourism associations are encouraged to submit nominations online at www.pembrokeshiretourismawards.net