Financial service startup Bought By Many recently created a research report listing the most searched puppies in the UK in 2014. Can you guess what's number one? We couldn't… The results will surprise you.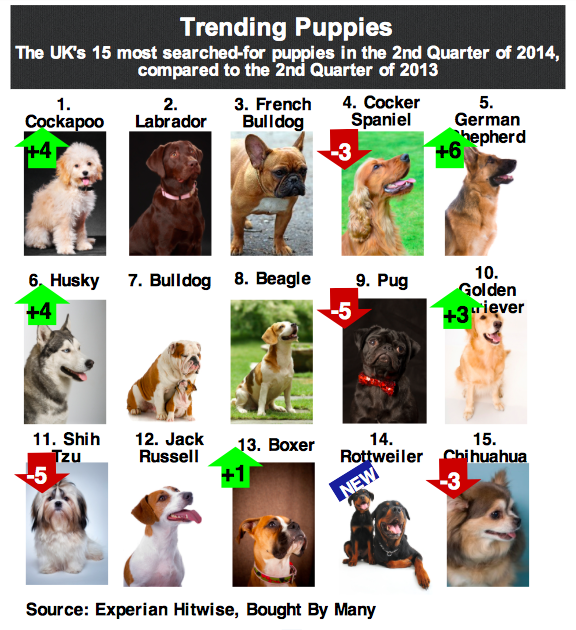 This year there is a brand new puppy in first place. The brilliantly named Cockapoo has grabbed the nations attention this year and has been named the UK's most searched puppy.A mixture between the Cocker Spaniel and the Poodle, these pups have knocked the Cocker Spaniel off the top spot to number four.
German Shepherd puppies have seen a surge in popularity in 2014, rising six places to 5th, with Husky, Golden Retriever, and Boxer puppies also making gains. Meanwhile, Chihuahua, Pug and Shih Tzu puppies have all seen a decrease in popularity.
Surprisingly Rottweiler puppies are the only new breed to enter the top 15 and have displaced Border Terrier Puppies who previously occupied the 15th Spot in 2013. Evergreen favourites like the Labrador, Jack Russell Terrier, and the Bulldog have all held their positions, along with Beagles and French Bulldogs.
To find out more about how the report was created please visit the Bought by Many Blog https://boughtbymany.com/news/article/trending-puppies-q2-2014/
Bought by Many is a new online organisation that anyone who owns a dog should check out. Their goal is to help people who share something in common (for example a puppy) get a better deal on insurance. They do it by clubbing people together in groups, they then use collective buyer power in negotiation with insurance companies giving you a better deal. Visit them here… www.boughtbymany.com