Well, the longest day has been and gone but hopefully there's still a lot more summer weather to enjoy!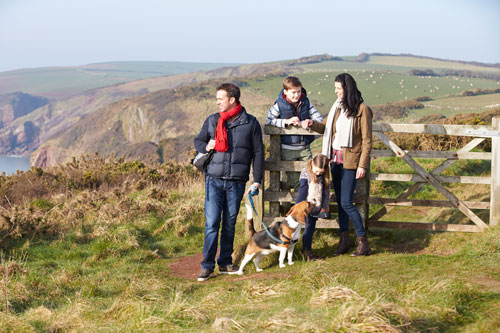 It's only when you stop and really think about it that you realise that there isn't much that can match the magic and enjoyment of a lovely evening's stroll, out and about with your beloved dog. With this in mind, listed below are 5 essential items of a sensible 'dog walking kit' to help prepare you for whatever the summer elements might throw at you!
1. Waterproof Jackets
A 'mac in a sac' is an essential garment when out dog walking. They pack away small enough to fit into your pocket or even clip on to your belt but do be sure to get a 'breathable' mac – or perhaps one with a mesh lining – otherwise when it's raining, your own body heat will make the mac wetter inside than it will be outside! Plus, make sure its nice and bright so you are easily spotted when walking home at dusk. A clear advantage of a waterproof jacket is that it is easy to wash and even 're-proof', if necessary!
2. Footwear
Leather walking boots or shoes can be heavy and perhaps make your feet too warm in the summer. So lightweight, yet sturdy, boots or shoes really are the answer. Waterproof and breathable walking boots or shoes are recommended as, at some point, you are likely to encounter puddles and streams which your trusted dog will just love to play and splash in! Nowadays, many walking boots and shoes are designed to incorporate waterproof and breathable membranes that are easy to maintain with just a quick clean and re-proof straight after your walk. However, Grisport boots are designed and manufactured in Italy and there is a selection of quality, sturdy, lightweight boots and shoes that are comfortable straight from the box. No (or very little) 'breaking-in' will be needed!
Alternatively, if you enjoy walking through forests or muddy grounds, you may prefer a pair of wellington boots. Neoprene lined wellies, equipped with a Vibram sole will give you comfort, support and grip – which is just what you need when walking on rough and tough terrain, helping you keep full control of your excited four legged companion!
3. Hats
Wearing a hat in the summer has many benefits:
a wide brim hat will help to prevent sun stroke by protecting the top of your head and neck
a baseball cap will help to prevent heat from escaping from the top of head when, for example, on top of a breezy mountain playing with your dog
a wide brim sun hat can be used to host a 'midge net', when walking through damp forests or alongside rivers
a wooly hat will protect your ears and prevent ear ache when walking in those very windy areas – even if 'doggy' is enjoying it more than you!
a flat cap can be comfortably worn but can also be used to 'shoo' away sheep or cattle from paths and gates – out of the way of playful and inquisitive pooches!
a waterproof wax hat has the dual purpose of being used to scoop up water from a river supplying a refreshing drink for your thirsty hound ,when all else fails!
As you can see, having a hat in your pocket or rucksack is very handy and, in some cases, may even be a life saver!
Or if you prefer not to wear a hat, you could consider a headband. These lightweight fleece bands offer great protection over the ears without the bulkiness of a normal hat. Plus, they wrap up small enough to fit into a pocket!
4. Gloves
You may not have thought about wearing gloves in the summer but they are very useful to help maintain a grip when holding a very excitable dog on a lead.
Dexshell Thermfit gloves 'fit like a glove'! (hee, hee!) Made from a fabric similar to wet suit material, they are fully waterproof and highly breathable. Plus, designed with a unique grip control on the palm and fingers, these gloves will make sure you have the right grip on the lead. These are simply great – whatever the weather!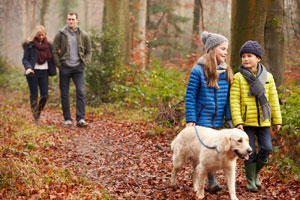 5. Dog Coats
A dog coat is an essential piece of equipment to help keep your trusted pet cool, dry and comfortable – especially after being in that river!
Made from heavy double-thickness cotton towelling, with velcro closures, the 'Ruffle and Tumble' dog drying coats have many uses:
Use 1:
If your pet has been swimming in a river or lake, simply wrap the dog coat around your dog keeping him or her snug. The coat will keep your pet warm and comfortable and help dry them off quicker. Plus, the drying coat will collect up the dirt from their fur by sucking it into the material itself, preventing the back of your car from getting wet and dirty!
Use 2:
If you see that your dog is panting franticly and is over-heating, simply dip the coat in the nearest water you can find and wrap it around your dog. The wet coat will act as a body temperature regulator and will help cool your dog down.
Plus, your dog will love wearing this drying coat as it fits and feels just like a 'big, big hug'!
So, enjoy being out and about in the summer months ahead…and perhaps more importantly, enjoy spending time out and about with your loving, grateful and excitable four legged friends!
For further ideas and guidance on what to wear when dog walking please visit www.cherrytreecountryclothing.com