We all know that having an elderly dog can be a challenge in its own right. No more dealing with the energy of youth, but a gentle shift to taking care of a dog with specific needs for their age.
Getting older is natural and it will happen to all dogs. Making sure that you are providing proper care and attention can make this part of the journey far less stressful for both you and your dog.
Below we will take a look at some key areas that can help with caring for your dog.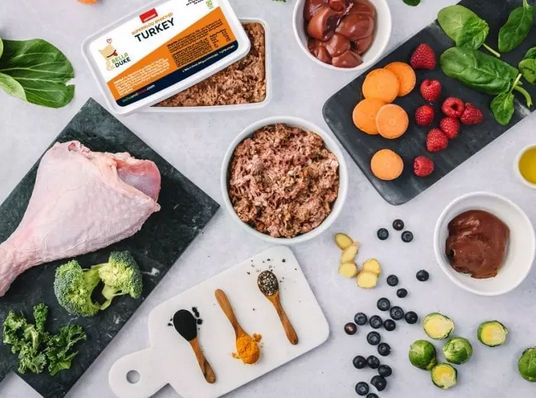 Dietary Requirements
These will change as your dog gets older. You can help with weight management and organ functions by switching to a dog food designed for elderly canines. Bella & Duke's 100% natural senior dog food is a great choice – simply click here to browse their range.
These foods have fewer calories and contain a supplemental boost of nutrients that will aid your dog in remaining happy and healthy.
Vet Visits
Making an appearance at the vet's might be the last thing your dog is excited about but this is a golden ticket to knowing that your little senior is in the best possible health. As an owner, it's easy to miss symptoms and many complications can be avoided by simple treatments.
As dogs get into their later years their general ability to fight off disease and ailments becomes less effective – it's important to provide extra care to help with this.
Prevention is always better than the cure!
Exercise
You must keep your dog active, and make a concerted effort to take them on regular walks and outdoor activities. Always take into account any physical limitations and other health concerns that might limit their ability.
Exercise will help with keeping their weight down and will promote general good health as well as keep your senior pup very happy.
Grooming
As your pup gets older, their once beautiful coat and skin can become dull and dry. Skin and coat ailments can lead to a very unhappy dog and can result in an unpleasant odour or loss of hair.
This is something that can be avoided by regular brushing as well as using a special shampoo designed to treat irritated and/or dry skin.
Interaction
It's worth mentioning that your pup is always craving attention – no matter how old they get. Showing your pet that you are willing to give them your time is often priceless when it comes to their happiness.
Senior pups are more prone to anxiety, and can easily get scared or disorientated when put in a situation where they don't have their owner.
Final Thoughts
Your pup getting older is something that cannot be avoided, and although their age might start taking a toll, they are still that lovable dog you first encountered. By providing your dog with the proper care they need, you can extend their life and keep their tail wagging.
Your dog will never stop being there for you – so make sure you are always there for them.
Article Supplied