Good Dog
Dogs are popular pets the world over and with so many shapes, sizes, colours, breeds and temperaments to chose from it is easy to see why so many people find a dog to suit their needs. Dogs make fantastic pets for families as they are active and attention
seeking, needing frequent exercise and love which a doting family can usually provide in bucketloads.So if you are considering getting a pooch as a pet what sort of things do you need to ensure that you are set up adequately for when you bring him home for the first time.
Food & Drink Station
Dogs respond well to routine so it is important that food and drink is offered at the same time every day and in the same place. Often dog owners have specific feeding stations with bowls raised at the right height for the size of the animal to minimise the risk of neck strain. It is a sensible idea to have the feeding station away from human food so that the temptation for them to eat human food is away from them when they are hungry. It is also a good idea to make sure that your food station is on an easily
wipe able floor as spills do happen. An ideal location would be a utility room or similar.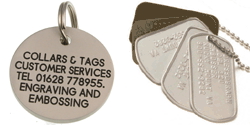 Identity
It is important that you are clear about your dogs identity from the start as changing names can cause massive confusion for the animal. Chose a name well in advance for your dog coming home and
get a collar and tag made
so that in those inevitable moments when your dog decides to run away across the field, you know he can be returned safely if someone else catches up to him first!
Toys
Dogs are active creatures and it is essential that you keep their minds and their bodies active as much as possible. If you do not stimulate your dog enough you run the risk of him becoming sullen, bad tempered and even depressed. If you leave your dog indoors whilst you are at work and they become bored, your furniture and carpet may not last very long.To avoid these situations make sure that you are getting appropriate toys for both indoor and outdoor play. There are many toys on the market so do make sure that it is an appropriate
size and construction for your particular breed, a poodle and a
bulldog play with quite different toys.