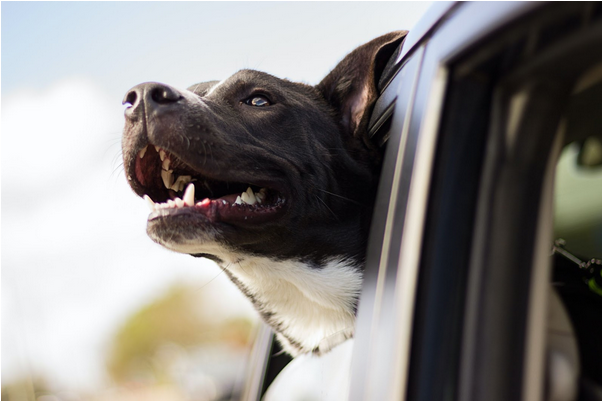 Travelling with your dog can be such a rewarding experience for you both. Just like people, dogs love exploring new places (and smells), and you'll be much happier going away knowing that your furry friend will be by your side and not at home missing you.
But whether you're planning on travelling abroad or simply driving 10 minutes down the road, there are certain essentials you need to pack to make travelling with your dog much easier and more enjoyable for you both.
It also means you won't find yourself (and your dog) stuck without the things they need, especially if you've gone abroad and you can't easily re-buy certain items.
So, if you're going away with your dog this year, this guide is for you. Here is a list of 12 essentials you need to take with you.
Collar and lead
First and foremost, you need to make sure they have their collar on with their ID tag firmly attached, just in case they wander off, or you get separated during your journey.
Secondly, you need to make sure you've got the right lead for your pooch, whether they have a standard, extending or short lead. This also includes harnesses and muzzles if your dog requires one.
Bedding and blankets
You want to make sure your dog is comfortable and that they have somewhere to sleep, particularly if they are staying over in the new place. Bringing their bed or favourite blankets with the smell of their home on them can be a great comfort and can help to settle them into the new accommodation.
It can also be calming during travel, particularly for nervous dogs who might not be happy about car, plane or train journeys in the first place.
If you have the space, you might also wish to take some extra blankets or sheets to put on the furniture to protect your accommodation from mucky pups and dog hair.
Safety belts or products
Whether you're going on a road trip or simply driving to the airport, you need to make sure you always put your safety first. If you have an excitable dog, then you might need to clip them in for the journey. There are a number of products out there that you could use, including dog seat belts, harnesses or car hammocks.
This will very much depend on how active your dog usually is during transit, but if you're at all concerned they might become overactive during the journey, it's better to be safe than sorry.
Dog crates and carriers
If you crate your dog at night or even in the daytime, you might wish to take their crate with you. Again, this will give them a safe space to go, and if they are still a pup can protect your holiday accommodation. Of course, this will depend on how you are travelling and whether you have space, though most crates are collapsable.
What's more, if you're taking your pet abroad, they might need a crate or carrier for the plane journey. Make sure that it is plenty big enough, especially if it is a longer journey, as you don't want them to be cramped and uncomfortable. You might also wish to fill this with the bed or blanket to make it cosier and more comforting.
Poo bags
One of the most important things to remember is to have plenty of poo bags. We suggest taking a full bag or several rolls with you as these are light and don't take up a lot of room. This will stop you from getting caught out, particularly if you're somewhere where you're finding it hard to source these bags.
Food and drink (and bowls)
Although taking too much food can become a burden, you should certainly take enough to get you through the first couple of days. This gives you a chance to source similar (or even the same) dry and wet food for your dog from a nearby shop.
However, if you're going somewhere very remote, or perhaps your dog has special dietary requirements, you might need to take enough food for the duration of your trip. Also, be sure to pack some of their favourite treats for when you're going out on walks, or you need to settle them down.
For your actual journey, you need to make sure you have plenty of fresh water with you in case they need a drink along the way. You can take a travel water bottle with you for something smaller. Alternatively, you might already be taking their usual food and water bowls, but that will depend on how much space you have in your luggage or vehicle. Either way, don't forget to pack food and water bowls of some kind, even if these are of the travelling, fold-up variety.
Mats and pads
If you have a puppy that is still in training, or perhaps an old or poorly dog, you might need to bring puppy or potty pads with you to avoid any accidents in the house. Be sure to use whatever it is that your dog is currently used to so they understand what they are and how to use them.
What's more, if you are going somewhere hot or you think the weather will be particularly sunny, you might wish to pack a cooling mat with you as well.
Toys
You want to keep your dog comfortable but also entertained, so it's important to bring some of their favourite toys. This could be balls for throwing on the beach, ropes, teddies, antlers, or whatever they find fun and comforting. This will be a real lifesaver if you need to distract them or entertain them either in your accommodation or while you are out.
Brush
Not always a necessity; this will very much depend on what dog you have. But if you've got a particularly fluffy friend you might need to bring a brush with you to stop them from becoming a tangled mess. This is especially true if they will be getting wet or muddy on your trip.
Towel
Similarly, if you anticipate that your dog will be getting wet or dirty at any stage, whether that's on the beach or on woodland walks, a spare towel is always important. This way, you can easily wipe their feet or even give them a bath or shower if needed. This will protect your vehicle and accommodation from muddy footprints.
Medication
You need to make sure that you take any necessary medication with you. This might be flea and worm treatment or any prescribed medication. Make sure you have enough to last you for the entire duration of your trip.
Documents and paperwork
Finally, you need to make sure you have a copy of all relevant documents and paperwork and that your pet meets all legal requirements. If you are travelling abroad, this might include a pet passport, health certificate, proof of microchip and travel insurance documents.
But whatever you need, it's best to make sure you have a copy of all relevant documents to hand to make your journey as smooth as possible for you and your pooch.
Article Supplied