If you are the owner of a dog, you've probably thought more than once – and not having to help my dog get on the bed or get in the car every time. If you are still planning to add a four-legged friend to your family, you will definitely think about it in the future. However, there is a very simple way to solve this problem. You just need a dog ramp that will make your dog's life easier. And yours as well.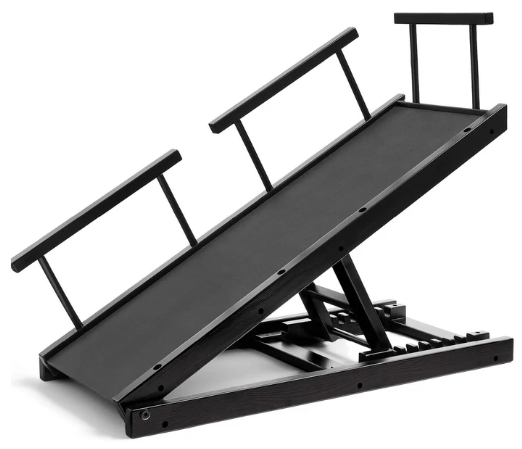 What is a dog ramp? It is a surface that helps your pet to get from one level to another. For example, to get easily from floor to bed, sofa, etc. They can come in a variety of sizes, including ones that can be height-adjusted as needed. They are usually made of plastic or wood, it can be decorated and adapted to the interior of your home.
What is it for? Dog ramps are very useful for those who raise small puppies or have senior dogs. Also for those whose dogs are sick, have joint problems, or are handicapped. The dog ramp allows the dog to be independent as well as risk-free as they do not need to try to jump on a higher surface. Because dogs are underestimating their chances of jumping can get injured very often. And such a situation will cause a lot of discomfort for both you and your dog, after which you will still probably have to buy a dog ramp.
The main benefits of having a dog ramp. It will make the dog's life easier and protect it from possible injuries. Meanwhile, purchasing a dog ramp will also save you a lot of time, as you will no longer need to help your dog every single time it wants to get on the bed or couch. Also, it is not a short-term investment. This tool will be used by your dog constantly for many years.
The main drawback may be beneficial as well. Reduced space in a room is probably the biggest drawback of having dog ramps. However, if the amount of space is relevant to you, you can choose a functional ramp. For example, the one that is easy to fold. Such a ramp will take up very little space and fit perfectly in the closet or under the bed. Another option is to choose a dog ramp that can be used as a shelf or storage box. In this way, space will be used functionally.
So, are dog ramps worth it? The answer is – definitely yes. Some people doubt purchasing a dog ramp because of financial reasons or they are unsure how it would look in their apartment. However, deciding to postpone getting off a dog ramp often means paying a few times more to the vet after a pet has failed an attempt to jump on the bed. Meanwhile, in terms of design, you can definitely find something to suit your interior and be functional as well.
Article Supplied