Did you know that you can take your furry friends with you aboard private jets in the aircraft cabin? There is no need to leave them at home or ask friends to look after them while you're gone. Sure, you might be able to make accommodations for your pet on regular commercial flights, but that may not be in their best interests.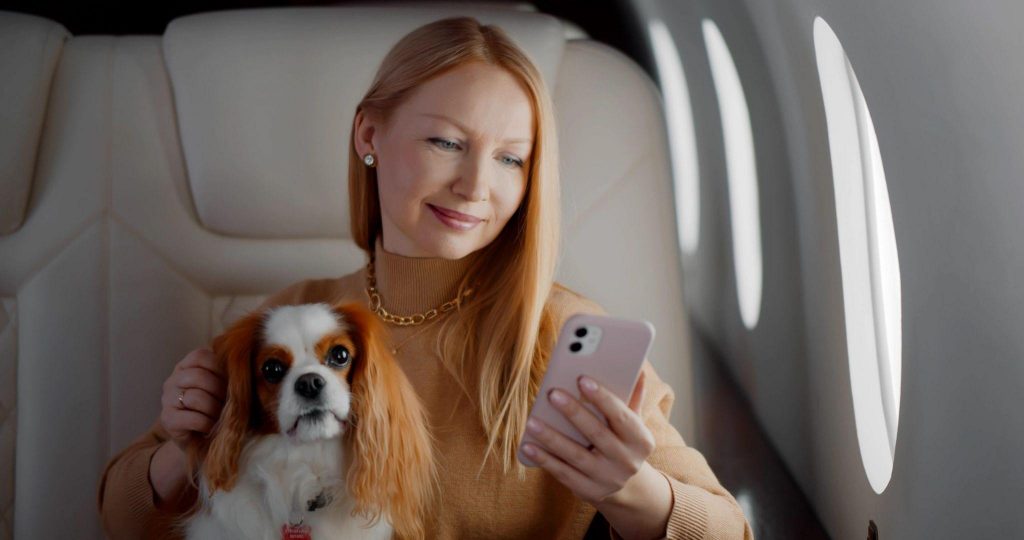 For starters, flying can be a very upsetting experience for pets, especially when they're in an unfamiliar and crowded environment. It doesn't help that commercial flights keep pets in cramped and desolate environments that contribute to heightened anxiety and stress.
This is why a growing number of travelers are opting for private charter flights so they can take their pets with them in tow.
Here are some of the main benefits of flying privately for your pets.
Not At All traumatic for Pets
Pets, especially dogs, get very attached to their owners and experience separation anxiety when removed from their guardians. Escape attempts by pets with separation anxiety can be extreme and may result in self-injury, especially on commercial flights. Thanks to private flights, you can now keep your pet with you at all times.
This prevents your pet from getting stressed or locked up in an unfamiliar environment which could be dangerous to them. They won't suffer alone in a strange environment while you're worried sick about their health. Pet owners who want to minimize trauma and stress for their furry friends opt for traveling by private jet.
Tailored Flight
Many aircraft services object to having pets on board their cabins. But Kull Jet Aero has experience with many pets on both long and short flights from around the world. Their helpful team is available to answer all your questions around the clock and make accommodations for your pet.
It is worth noting that dogs and cats have similar ears to humans. This means they can experience pain and distress when flying. Pets may even experience an injury to their inner ear if we don't help them equalize the pressure. It is recommended to offer treats to your pet when the jet is ascending and descending. This will help equalize pressure in their ears.
Peace of Mind for You
Flying privately with your pet comfortably sitting beside you is a great way of spending quality time together as well as being able to look after them. This peace of mind is an invaluable benefit of flying private because you can customize your trip with your pet and stay out of the public eye while traveling.
This may be necessary because pets don't know how to clear their ears when flying.
Pro tip: Use a harness instead of a throat collar to minimize the anxiety in your dogs. It's also safer for your furry friend. Make sure to bring comfort items such as a sweater, blanket, and dog beg to make their stay as fun and stress-free as possible.
Comfortable
Many guardians want their pets to feel comfortable when traveling, and it is also what motivates them to book a private charter. Sure, you could opt for business class or fly first class, but private charter services are far more customizable to perfectly suit your preferences. For instance, you could bring two or more pets with you without worrying about weight restrictions.
Best of all, your pet will not be trapped in a cargo hold or a cramped stay. You can also request the friendly flight attendants to provide your pet with special meals.
Luxurious Accommodations
The seating argument within Kull Jet Aero jets closely resembles high-end living rooms where you and your pet can freely move around from one area to another. This superior service will cater to the needs of you and your pets. With considerable benefits, Kull Jet's charter services can help you, and your pet enjoy your time in the air.
How Do Pets Go to the Bathroom on a Private Plane?
Even on a fast private jet, traveling may take a long time if you're going to a far-off location. And while there are washrooms in all of the planes, it is advisable to bring pee pads with you so that when your furry friend has to go, you have a convenient way of collecting their waste.
Booking a Pet-Friendly Private Jet is Easy!
Booking a pet-friendly private jet is relatively easy with Kull Jet Aero, thanks to a simplified booking process. You will need to provide a few documents, including:
Pet passport and microchip documents
Animal healthcare certificate indicating that your pet is fit for flying
Documents proving that your pet is at least eight weeks old
Documentation proving that your pet has received a rabies vaccination
Article Supplied