Isn't it one of the best feelings to go home after a long exhausting day and have a private space to rest? Will you be surprised if I tell you dogs need their private space as well? A crate is an ideal home for every type of dog breed. However, there are several factors that should be considered if you want your dog to feel comfortable while using the crate.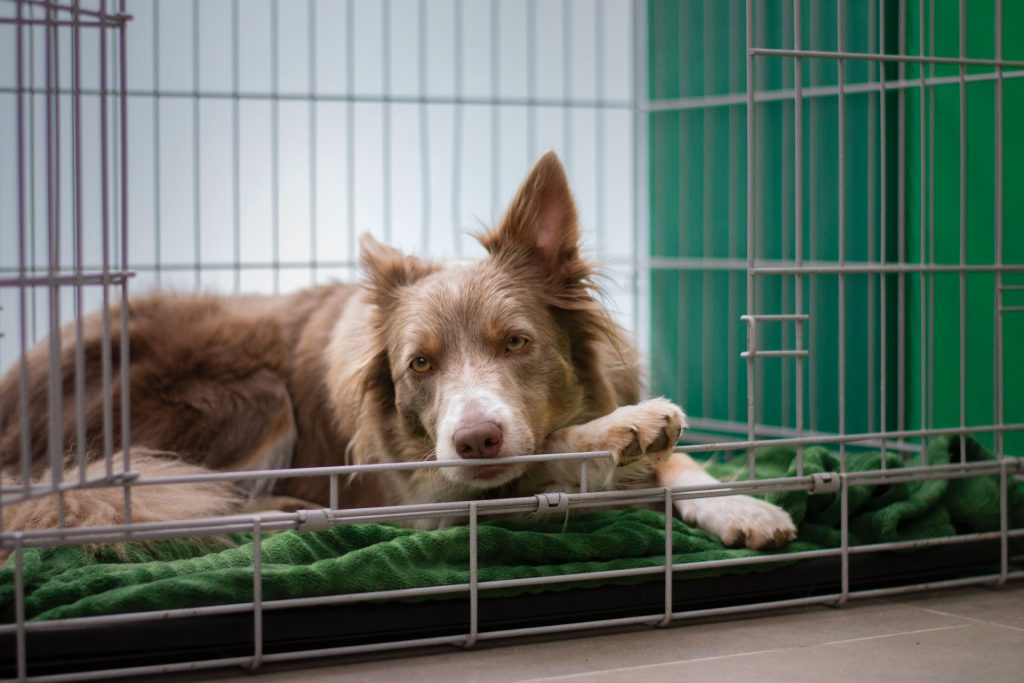 Consider your needs
It is best to enter a store after properly evaluating your needs. A dog trainer might need a crate for a purpose that differs from an owner. Crates can be useful for training or safety. Identify your reasons for buying one, and of course, the most important to consider is your dog's comfort. The decision to offer your furry friend its own house or even a playpen, requires much thought, which begins with your understanding that dog crates differ in size and structure. Undoubtedly, everyone wants to get a higher value than the amount spent. As a result, you should inspect the materials used in constructing the crate.
Before you choose a crate, think about the following:
Am I buying to train a new puppy?
Can the dog outgrow the crate?
Am I buying a crate for a chewing pet?
Can I carry the crate along when traveling?
Does the design complement my home structure?
Is the cage mobile and versatile for different uses?

Measure and weigh your dog
Every dog breed has a unique weight and size. If you're not sure, the American Kennel Club provides a comprehensive breed weight and size chart. Any crate you decide to choose must match your dog's characteristics. Taller dogs require a crate that allows them to move freely without obstacles. That won't be a problem for smaller dogs anyways. Crates that prevent dogs from having fun might end up being useless because the comfort and overall feelings of your are essential. Also, endeavor to weigh your dog and be careful while choosing the material of the crate. The right material will help to avoid crate distortion after a few months of purchase. Weight and size are factors you should not overlook because they are one of the main factors when it comes to the comfortability.
Determine the best size for your dog
Now that you have a perfect idea of what your dog's weight and length is, you can proceed to choose the best crate size for your dog. Larger and taller dogs need crates that allow them to stand inside them. Being spacious gives the dog the perception that it is in a den specially built for him. If you are getting a crate for a bigger dog, ensure you have enough space for the animal. It is necessary for your dog to get accustomed to its new haven. If you are buying a crate for a growing puppy, consider getting one with a separator. When your little pet grows older, you can remove the divider to make the crate spacious.
Five crate types and when to use them
Wire dog crates
These are metal-made cages that offer a see-through view for dogs. One of the important points of these types is continuous airflow irrespective of the time of the day. Wired crates usually come with dividers, making them suitable for puppies requiring housetraining. It can be dismantled for easy movement to your preferred location.
Furniture crates
If you need dog crates that match to your home design, the furniture style is the best option for you. Wood makes up every component of this cage, with a compact covering at the top. Smaller dogs flare well in these types of crate. Considering that you have limited space in your home, the furniture crate will fit perfectly into your living environment.
Soft dog crates
This crate type is the direct opposite of the wired ones because of its lightweight feature. Setting up soft dog crates is straightforward, and you can also pack them when they're not in use. They usually have up to three doors, making it possible for your pet to move in and out. This is the best option if you love traveling with your pet.
Heavy-duty crates
These are special crates for specific purposes made with coated metal. Some dogs are strong and smart, and they simply can't be in any type of crate. The high-grade steel design that is extra tall and wide can accommodate dogs with these characteristics. Heavy-duty crates are the perfect option for fierce dogs that require additional security.
Plastic dog crates
This crate type falls in between the metal and the soft model. It is preferable to only use plastic dog crates occasionally because of the limited ventilation. You can opt for it if you are going on a short journey with your pet. It offers more of a den feel for canines, given its thickness and enclosed structure.
Choosing the best crate for your dog shouldn't be challenging if you adhere to the tips we highlighted. Your furry friend deserves to be comfortable. Take this along with whatever decision you need to make for your dog's safety. You can choose from the different types available after evaluating your needs.
Article Supplied