Whether you want to de-stress from a busy job or have a thirst for adventure, going on holiday is always something to look forward to. If you've got a dog, we definitely recommend bringing them along too! Not only do you get to explore a new place or relax by the sea, you get to do it all with man's best friend by your side. If you think it's time to get away with your pup, check out our top dog-friendly holiday spots in the UK for a bit of inspiration.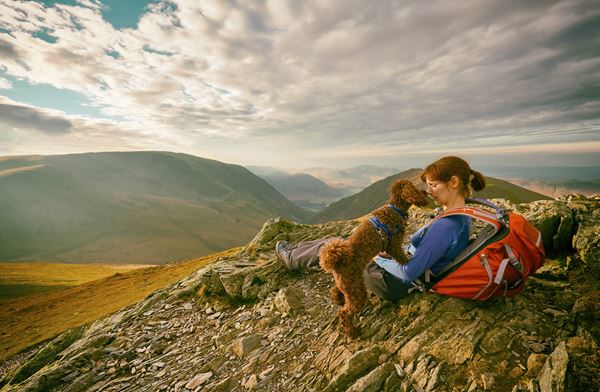 Cornwall
Undeniably beautiful and with plenty of incredible outdoor locations, Cornwall is a hugely popular UK holiday destination – and its very dog-friendly, too! There are over 100 beaches that you and your pup can choose from, which is perfect for getting outdoors and letting your dog run, jump, and swim to their heart's content. A bunch of the big attractions also let dog's in, such as The Eden Project, and with a warmer climate you can enjoy plenty of time outside.
Lake District
If you and your dog love going on long walks and enjoy beautiful scenery, the Lake District could be your next holiday spot. The wider area of Cumbria has 20 English heritage sites that'll welcome your dog, including Ambleside's Roman Fort, and the remains of Penrith Castle. There are also plenty of lakes and rivers that your four-legged friend can splash about in, and even a lake cruise out on Windemere that dogs can join in with for free!
North York Moors and Coast
With a ton of dog-friendly holiday properties to pick from, beautiful coastal towns, and rural moorland, the North York Moors and Coast are great spots for your trip away. Start your day with a walk along the beach before enjoying a traditional pub lunch, and head to the woods or moors in the afternoon for some stunning scenery. The best part? Your pup can enjoy everything with you!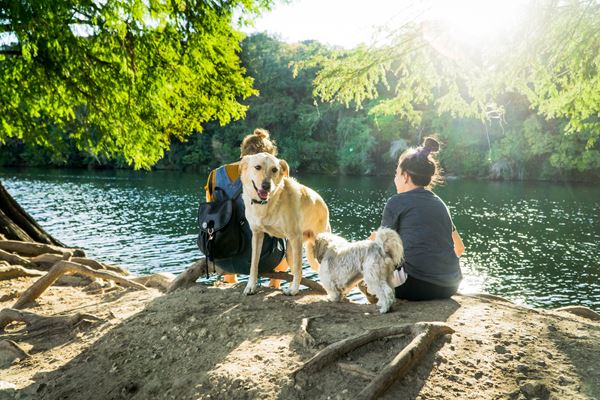 Devon
Head to Devon for warmer temperatures and beautiful beaches – it's another firm favourite for dog-friendly holidays spots in the South. From coastal walks along the South West Coast Path to the grounds of Powderham Castle, there are plenty of activities you and your dog can enjoy together. In fact, there are over 25 dog-friendly tourist attractions that you can explore, so you can be sure of a full itinerary whilst you're there!
Anglesey
For an abundance of coastal trails, head down to Anglesey and let your dog explore the great outdoors. With over 125 miles of coastal walks, you'll certainly be kept busy! The paths lead you to many interesting spots, including fishing villages, woods, cliffs, and, of course, a lot of wonderful beaches. Your pup will love spending all day outdoors, taking in the scents and sights, and meeting plenty of other dogs along the way.
All of these wonderful holiday destinations have plenty of dog-friendly cottages and holiday homes where you and your family can get away for a well-earned break with your four-legged friend. For inspiration visit the Dog Friendly Retreats website which is full of wonderful ideas for pet-friendly getaways all over the United Kingdom.
There a lot of dog-friendly spots around the UK that are perfect for a holiday, making it easy to get away from home without leaving your pup behind! So, if none of these catch your eye, be sure to check out what else is out there.
Article supplied.