As we turn our attention to the spring season the Staglers team is ready for the year ahead. We are all waiting for the deer antlers to naturally fall off the stags after they have completed their mating season.
Fortunately the Staglers Store is holding impressive stocks of whole antlers and cut, prepared deer antler dog chews. We can confidently guarantee not to run out in the Spring of 2015 this gives us a competitive edge over some of our competition who are larger businesses and always struggle to fulfill orders at this time of year.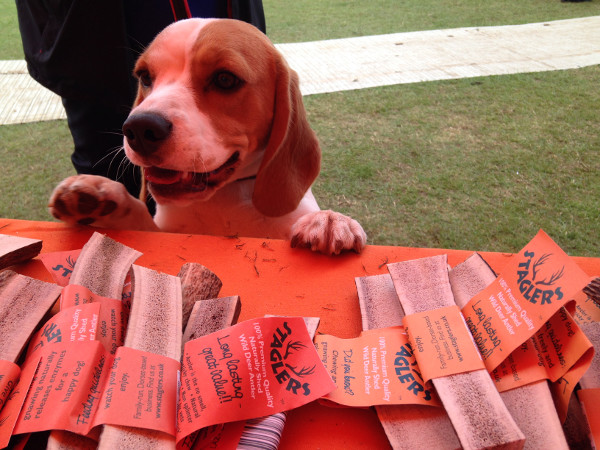 Our workshop has prepared deer antler dog chews ready to be shipped to customers and trade suppliers alike.
So what are your choices? You can go to www.staglers.co.uk and buy online in a few easy steps and receive fast, reliable delivery.
If you run one of the below, or know a friend who would like to stock us give them this blog today!
Pet shop – Pet retailer – Pet product supplier – Dog groomer – Dog product supplier – Animal rescue center – Equine stockist – Farm Shop
If you need a reliable supplier, in easy to handle quantities (or big orders too….) give us a call 01202 631734 or 07979 908000 to chat. Rest assured you can get a competitive deal and excellent personal service.
Alternatively come and see John and the family at one of the shows around the country. Yes, we pack up the Staglers van, with lots of orange items and a huge variety of tasty chews onboard. Our  opportunity to meet you and your wonderful pets in person. Book a date in your diary and we will see you there.
Staglers dog show stand
Click on the show name to get all of the latest information and see how you can go too…..
April 11th & 12th – All about Dogs, Newbury, Berkshire
May 3rd & 4th – All about Dogs, Brentwood, Essex
May 21st  23rd – Devon County Show, Exeter, Devon
May 27th to 30th – Royal Bath & West Show, Shepton Mallet, Somerset
June 11th to 13th – South of England Show, Ardingly, West Sussex
July 1st & 2nd – Royal Norfolk Show, Norwich, Norfolk
July 28th to 30th – New Forest Show, Brockenhurst, Hampshire
August 19th – Gillingham & Shaftesbury Show, Shaftbury, Dorset
September 5 & 6th – Dorset County Show, Dorchester, Dorset
DO YOU HAVE A FAVOURITE SHOW? Please let us know by emailing biscuit@staglers.co.uk and we will see if we can get there! This includes Olympia and the brilliant Horse of the Year Show. We aim high to please you. Fingers and paws crossed!