"Consider your dog an individual", and "adapt the training to your dog's personality and temperament" are among the pieces of advice we are likely to give when being asked for guidance. We truly believe that our paw family members have their own personalities, which we should respect.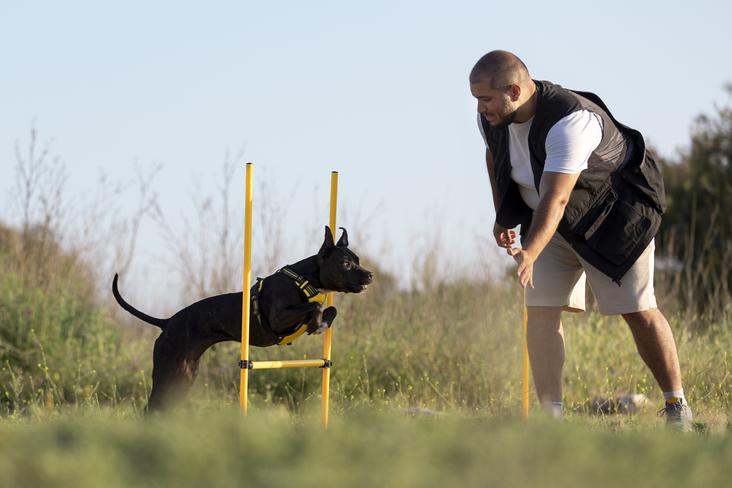 Both the owner and the dog need to learn to understand each other in order for their bond to get strong and for the training process to succeed. Just like knowing a person with all their strengths and weaknesses is a process that requires time, the same is also valid for the process of knowing a dog.
If you decide to train your paw friend with the help of a professional trainer, how can you be sure that they will understand your dog and use the right approach for him/her? Proper training requires a lot of skills and knowledge, and a love for dogs.
If you are currently looking for a trainer, today's article might provide you with helpful tips on the factors you should consider during your search!
Why Is It Important to Find the "Right" Trainer?
Let's clarify first, the term "right" may have a different meaning from person to person. The right trainer for one team might not be the right one for another team.
It is important that you do research and opt for a person, who has the needed skills, and experience and uses an approach that is suitable for your dog. Finding the right trainer will ensure that your dog will become well-mannered, confident, and more attuned to you. Not to forget that the training process also requires the dog owner to be an active part of it.
The following ten tips will help you choose the right dog trainer for your furry friend.
It is also advisable to find a trainer who has worked with dogs of all breeds and ages. An experienced trainer will be able to apply tailor-made training methods to suit your dog's needs and personality.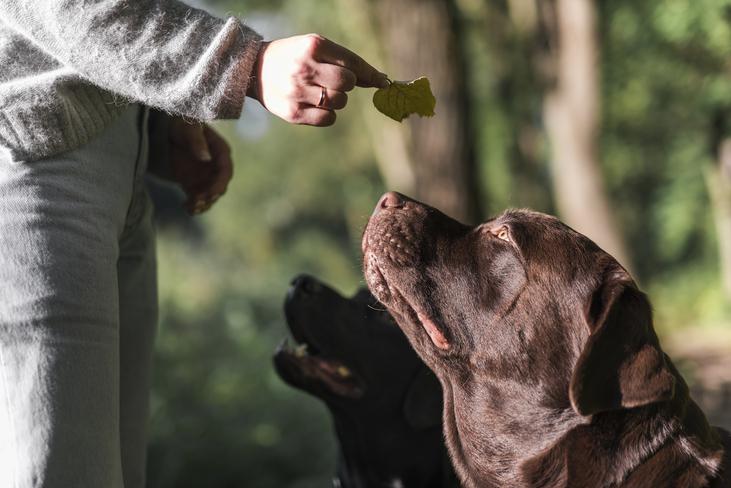 Experience
When choosing a professional dog trainer, we would recommend that you look for one who has experience in dog training- whether it will be in basic obedience only or specialized service dog training. Service dogs perform specific tasks for the benefit of a person with a disability-physical and/or mental. If you would like to have your canine trained for service dog work, you should consider hiring a trainer who has experience in training dogs for the specific tasks you are interested in.
References
Whether it will be through online reviews, or direct communication with people who have worked with the trainer, checking for references is something you should do. This will help you get a better idea of their experience, approach, and methods.
Communication Skills
Dog training does not only include "training a dog" but also their owner. A good trainer should be able to properly communicate his/her training values and techniques to you. Being patient and having a friendly demeanor are other characteristics you should look for in a reputable trainer.
Patience and Willingness to Explain
Reliable trainers are ready to answer all the questions potential customers may have. As experienced professionals, they know that every team is unique, which requires them to be patient, tolerant, and respectful of them.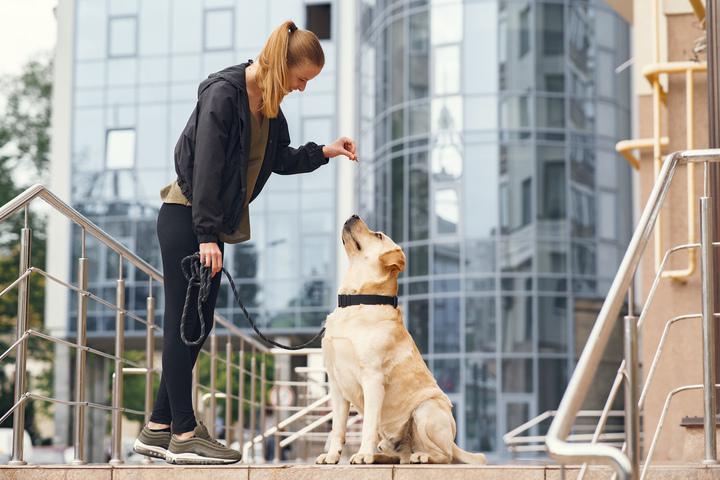 Positive Reinforcement Techniques
There are different training approaches and which one will be the best, depends on your dog.
However, if you opt for a trainer who uses positive reinforcement techniques, you will help your dog feel encouraged during the process. Although restrictive devices might produce short-term results, they are not recommended for sustainable long-term training. Positive reinforcement techniques will help turn your dog into a happy and confident dog, who will want to spend time with you, instead of being afraid of punishment.
Training Methods and Philosophy
Every dog trainer has their own philosophy and training methods. Before choosing a trainer, ask about their philosophy. Make sure that their methods align with your values and goals for your dog's training. It is not only about avoiding trainers who use outdated or harmful training methods but also about trainers who may put emphasis on tasks you do not need in your daily life.
Training Environment
The training environment is an important factor to consider when choosing a dog trainer. In case the training sessions will be conducted at the trainer's facility or their home, be cautious of whether the area is clean, safe, and comfortable. The environment should be free from distractions and noise to allow your dog to focus on the training. During the training, distractions can be added gradually.
Type of Training – Group or Private
Decide whether you prefer group or private training for your dog. Both options have their advantages and disadvantages. Group training can be of great help to our dog to socialize with other dogs, while private training allows more individual attention and tailored training. In order to make the right decision, you should consider your dog's personality and needs.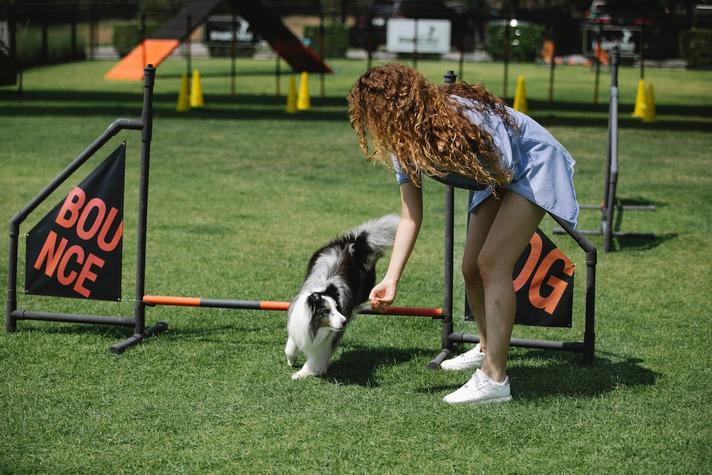 Availability / Flexibility
If you opt for training through a professional trainer, you may need to be ready to make some compromises with your schedule. A trainer, who is suitable for you, is a trainer, whose availability and flexibility align with your schedule. Look for a professional who can take your daily tasks into account and is willing to work around your availability. Every owner-dog team has its own pace, which needs to be considered, for the team to feel comfortable and remain motivated.
Price
Price is a factor that always plays a role when we want to receive products or services of high quality. However, there are many factors that can affect the price of a product or service, and some of them are not related to its quality.
Having said that, the highest price is not automatically equal to the highest quality. In the context of dog training, you can expect the training services in certain states or areas to be more expensive than others, entirely based on the location. If a trainer works at a spacious facility including various training supplies or will have to pay to travel to your home to come to visit, you should also expect the price to increase.
In order to avoid any misunderstanding, you should have detailed and transparent information on what the training costs will be and whether they are worth it or not.
Dog Requirements
Reputable trainers have certain requirements that you and your dog will have to meet. These can be related to the dog's health (i.e. he/she needs to be up-to-date with all vaccinations), the dog's age (some types of training, like physically demanding ones, require dogs to have reached physical maturity), or your engagement in the process (you may be given "homework" to practice with your dog outside the sessions).
No Pressure
A good trainer will evaluate your dog and will provide you with realistic information on how training would look and what you could expect from it. They will take your opinion into consideration and won't put any pressure on you to hire them no matter what. If you feel somehow forced to go for a particular trainer, then this is a red flag! You should definitely think twice about whether this is the best decision…
Choosing the right dog trainer is essential not only for your dog's overall happiness and behavior but also for your progress together as a team. There are many factors you should consider prior to opting for a professional. Sometimes, being good at their job is not sufficient for a trainer to be "the right one" for you. You should trust the person and make sure that their values align with yours and your dog's personality. Take time to do your research and choose wisely.
Remember, a well-trained dog is a happy dog, and a happy dog will make you a happy owner. Good luck with your search for the right dog trainer!
Article Supplied