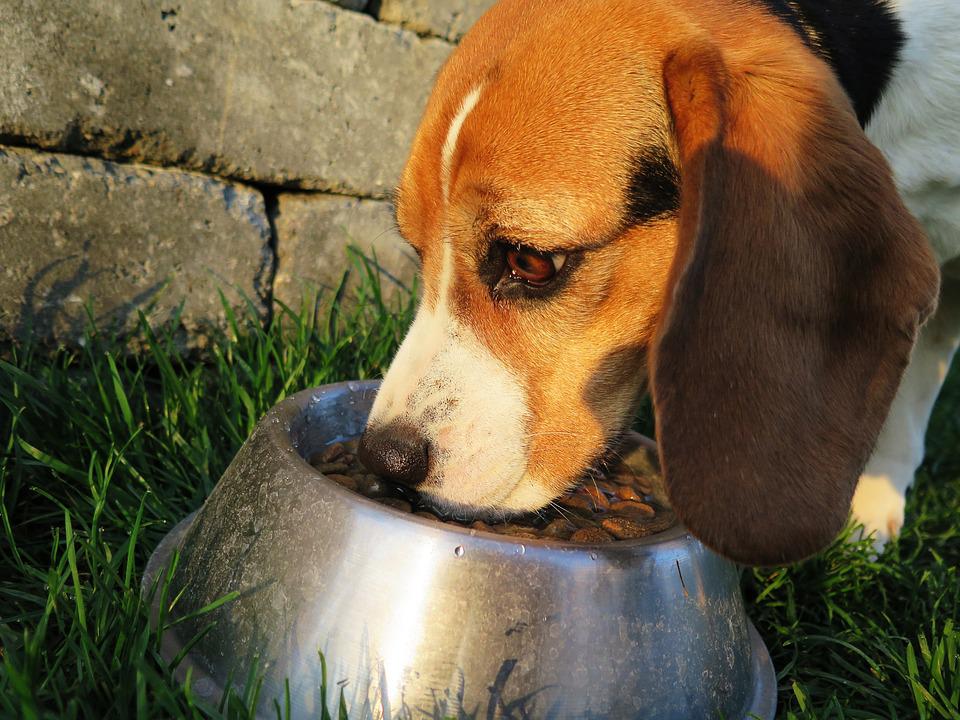 How much and how often you should be feeding your canine friend is a topic of frequent contention among dog owners, particularly as there is a lot of conflicting information available out there. With so many different brands and types of feed available on the market, it can be tricky knowing what the correct portions should be, based on your dog's breed, size and activity levels.
Obesity in dogs continues to be a problem, and with over 60% of vets stating that the biggest health and welfare concern for pets in the UK is them being overweight, it is important to ensure your dog is eating the right amount of food.
Here, we discuss the key factors to take into consideration when determining how much food to give your dog.
Age
From the very moment you bring your beautiful new puppy home, you are in control of how their diet and lifestyle will affect their growth and health. As such, ensuring that they are eating the correct number of meals per day for each stage of their life is essential.
Generally speaking, puppies between 8-12 weeks old should be eating around four meals per day. Then, from 12 weeks to six months, this can be reduced to three meals, and dropping down to two meals as they continue to grow. When a dog enters their adult life, just one meal per day is sufficient to provide them with the energy and nutrition they need.
It is important to stick to one type of food and refrain from feeding them too many doggie treats, since this can lead to excessive calorie intake, which can, of course, make them overweight or lead to an upset stomach. If you are noticing your dog looking larger than before, or if they are going to the toilet more than usual, this may be a sign that they are eating more than they should be.
Bear in mind that the age at which you should switch from puppy/junior dog food to adult food will vary from breed to breed. In general, small dog breeds normally make the transition between 8-10 months old, and larger breeds between 12-18 months. Check with your vet for specific advice and information regarding your dog.
Lifestyle and activity
Once your dog hits adulthood, one major factor which will determine their daily food allowance will be their lifestyle, especially how active they are. Again, observation and judgement should be exercised, particularly since not all breeds conform to their stereotypes. Infamous speed-merchants like Greyhounds can, in fact, turn out to be total couch-potatoes. Likewise, tiny Chihuahuas can be highly-active racers!
As such, understanding the behaviour and characteristics of your pet in particular is key, since too little or too much food can greatly affect their health and growth. If you notice changes to your dog, be sure to adjust their portions in order to keep a good Body Condition Score (BCS).
You can easily tell if your dog isn't eating the right amount, simply by their appearance and behaviour. Take a look at your pet from above – he/she should have a slight waist. You should also be able to feel their ribs, but they should not be visible. Your dog's coat should also be glossy and dandruff-free. If their energy levels are strange for their breed (e.g. too lethargic or too hyper-active), this may also be a sign that they are not eating the right amount or type of dog food. In this case, food allergies should not be ruled out, and your vet might recommend switching to a hypoallergenic dog food.
Dog size and breed
The breed and size of your dog are crucial factors to consider when determining their diet and portion sizes. For instance, different dog breeds of the same size may have different energy levels and thus, require more or less food. Similarly, large dog breeds can greatly benefit from feeds which support and protect growing joints.
When purchasing dog food, always check the label, which will outline a general food/weight guide, but these should only be used as a reference, rather than an absolute.
The best way to determine if your best friend is eating the right amount of food is to simply practice good judgement, keep an eye or their portions, and observe them regularly for changes. This way, your dog will continue to live a long, happy and healthy life!
Article Supplied.