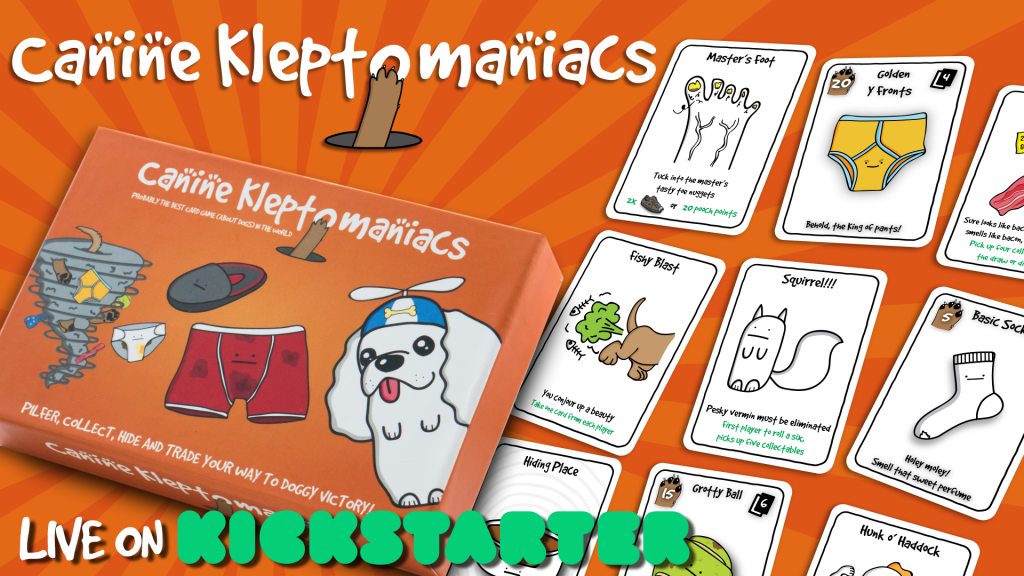 A Devon-based family (in the UK) is hoping that its home-grown card game, 'Canine Kleptomaniacs', will capture hearts and minds around the world with its quirky doggy theme and family-friendly gameplay.
What began two years ago as a wet summer holiday 'distraction from screens', has turned into a project involving the whole family, and the prospect of launching the game world-wide through a Kickstarter crowd-funding campaign.
The game is inspired by the family's 5-year-old Sprocker spaniel, Amber (also known as 'Ginty') whose thieving antics border on the criminal.
"Her stealing obsession is hilarious" says Matt Jones, the game's co-creator.
"Socks, pants, slippers, t-shirts, cycling shorts – you name it, she thieves it".
Matt Jones, who is married to Jo, with three kids, explains how the whole family has been involved in the project:
"It was never our intention to make a game for other people, it was just a bit of a giggle and a way of us keeping the kids off screens! It has been amazing to see the creativity and how everyone has chipped in ideas".
Eldest son Ollie (18) has spent hundreds of hours creating quirky illustrations for the cards, making video trailers, setting up websites and managing social media.
"What started out as scribbled drawings on scraps of paper in our caravan has turned into this potentially huge thing", says mum Jo.
"It's all a bit scary, really, but the kids have led the way, and they're so determined to see the game made that they have encouraged us to keep going".
Now the family has set up a small company, named Golden Ginty Games (in reference to the family pup who has inspired it all), and they hope to raise enough money to produce the game.
"Now we've got this far, we have this amazing opportunity to use it for something really positive, and that's something the kids are into" – says Jo. "Once we decided to go for it, we agreed as a family, that if we were successful, we would give something back".
The family has decided that a share of any future profits* will go to charities who seek to bring dogs into vulnerable people's lives, supporting them through providing therapy and companionship.
"The strongly doggy theme makes these causes a natural fit, and we have a particular heart for helping young people and the homeless" adds Matt.
It is still early days for the fledgling family venture as they are now running their first crowdfunding campaign on the website Kickstarter.