Training your dog can be challenging, but it should also be enjoyable. However, every dog is unique, and you may encounter challenges in getting them to behave the way you want. This process can take time, and it is a learning experience for both you and your furry friend. Luckily, if you're having trouble with training, there are great dog training apps available for Android and iPhone that can help you achieve better results. Give dog game apps a try and see how they can enhance your dog's learning and behaviour.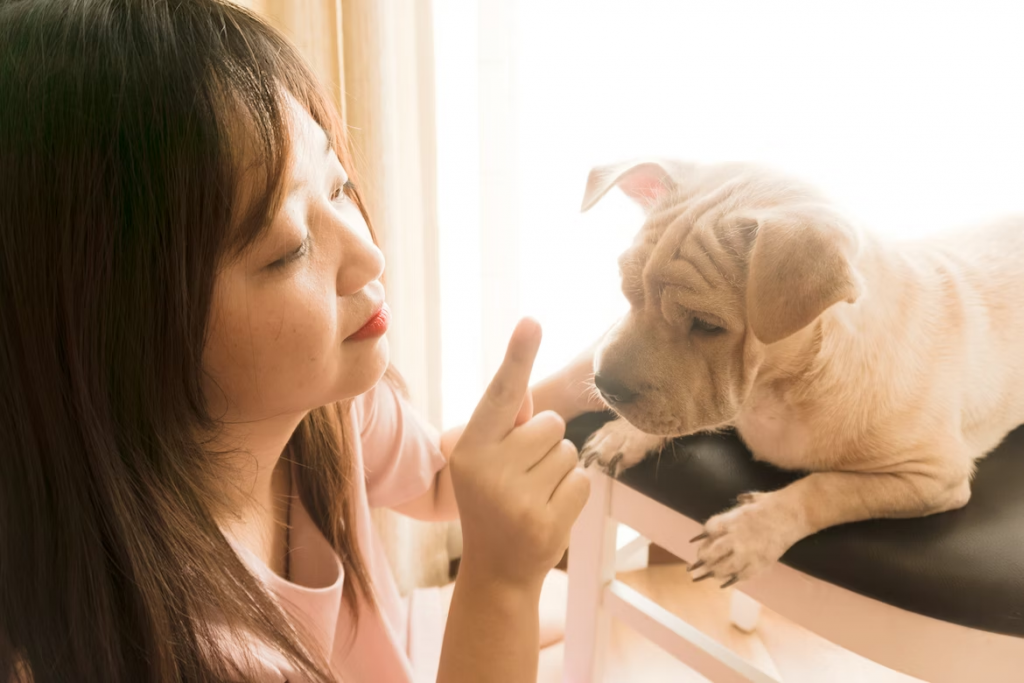 Best Puppy Training Apps:
Discover the numerous benefits that dogs bring to our lives – from boosting neurons in our prefrontal cortex to helping us cope during difficult times. It's no surprise that 75% of people consider their canine companions as part of their family. In fact, a recent survey revealed that 79% of pet owners want to shower their pups with all the love and care they need. However, many owners still ignore or pay insufficient attention to training. These applications will help you train worthy dogs from puppies without ruining the family budget.
1 Dogo Training App
Looking for a reliable dog training app? Dogo – the best puppy training app! With a free 7-day trial this app is an affordable and effective solution for dog owners everywhere.
Dogo has over 100 expert-curated dog training programs, complete with instructional videos, a built-in clicker and whistle, and even the ability to share videos with other dog owners. Plus, when you submit a video of your dog's performance, you'll receive feedback and professional tips within 24 hours. Don't settle for subpar training – download Dogo today and start seeing results!
2 Puppr
Discover the popular dog training app, Puppr. Conveniently train your furry friend using the renowned Clicker method with over 70 lessons provided by celebrity trainer Sara Carson – all for free! Puppr offers an in-app clicker and online store boasting a variety of training supplies and essential items for your pup. With the revenue generated through subscriptions and in-app purchases, learn more about Puppr's business model for further insights.
3 Pupford
Looking to train your furry friend? Look no further than Pupford's 30-day training program! Taught by renowned dog trainer Zak George, you'll receive helpful instructional videos and step-by-step guides for lessons like crate training, leash walking, and teaching your dog to lay down. Reinforce your dog's new skills by repeating lessons over multiple days. After the 30-day program, try out Pupford's behaviour-specific training to address pesky habits like biting and jumping.
From time to time we all forget that the resources of our phones are limited and with each application, we bring this limit closer and closer. The critical moment will be the message: "Clean up more memory on your device". You can start manually deleting everything that is not critical to you. There is another way – smart cleaning, which involves removing only temporary files, duplicates, and all kinds of garbage. Just download the right app and it will do the rest. You can boost your phone with the CleanUp app in a few minutes of your time. Everything happens automatically, but there is an option for semi-automatic cleaning. So you can choose what you need and what you don't. Deeper cleaning frees up even more memory.
4 EveryDoggy Training App
Looking for a top-quality app to train your furry friend? Check out Everydoggy! This app offers free basic training tips, as well as a wide range of games, courses, and tricks. For full access to these features, you'll need to subscribe to premium. But with over 70 tricks and games featuring step-by-step instruction videos for just $14.99/month, it's definitely worth it. Plus, every subscription comes with a built-in clicker and whistle. Get started today and see the benefits of training with Everydoggy!
5 GoodPup
Make dog training easier with GoodPup. This app assigns a personal dog trainer to you through weekly video chats, so you always have expert guidance. Plus, the app's built-in text chat lets you reach out to your trainer anytime you have questions. GoodPup also tailors training sessions to your dog's unique needs. Simply answer a few questions about your dog's age, commands it knows, and specific behavioural problems and the app creates a custom course just for your furry friend. Say goodbye to generic training and hello to personalized training with GoodPup.
6 iTrainer Dog Whistle and Clicker
Discover the perfect iOS app for your furry friend! Our app boasts a user-friendly interface and customizable sounds to engage your dog. Utilize a whistle, clicker, and positive-reinforcement training features to train your pup while effortlessly tracking your progress. Even more exciting? The app is entirely free with the option for ads, and no financial information is needed. Get started today!
7 Pawsitive Training App
Discover the Pawsitive app – the must-have Android app for pet owners! Keep your furry friend happy and healthy with engaging games, a clicker, and a guide to nourishing meals for your pup. What makes it unique is its comprehensive streaming video library that walks you through crucial topics such as socialization, behaviour, nutrition, exercise, and end-of-life care. These videos are veterinarian-approved and frequently updated to ensure you have access to the most current information. Get everything you need to take care of your four-legged pal with the Pawsitive app.
Conclusion
Discovering the perfect app for your pup can offer them added training and support, no matter your choice. With countless options at your fingertips, it's worth giving at least one a chance. Provide top-notch care for your furry friend with these beneficial apps and watch them thrive with joy and happiness.
Article Supplied