Beautiful holiday properties that welcome pets are hard to find – except in dog-loving North Devon.
This beautiful area's known for having loads of dog-friendly pubs, attractions and beaches, as well as stunning scenery and walks. Most North Devon beaches welcome dogs, with some such as Saunton and Instow allowing owners and their pets totally unrestricted fun and freedom. In recent years more and more of the area's holiday properties have started to accept dogs too – including some with hot tubs, amazing views, thatched roofs and beautiful decor. Take a look at this selection of stunning pet-friendly holiday properties in North Devon from Ocean Cottages (who specialise in luxury properties in this area), with ideas for where to take your best friend to walk and eat nearby.
See more dog-friendly holiday cottages from Ocean Cottages www.ocean-cottages.com/dog-friendly-holiday-cottages-north-devon/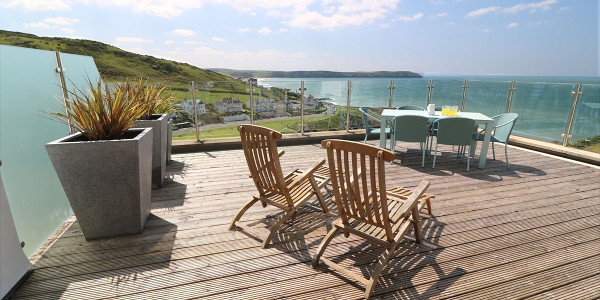 Stunning views: Gull Rock, Woolacombe
The pics speak for themselves here … amazing ocean views out to Lundy Island, glass-edged balcony and stylish décor, and secluded Combesgatebeach and endless Woolacombe beaches just a short walk away, with gentle surf that your dog will love to splash through. Gull Rock sleeps 4 in two bedrooms, and has a very large terrace plus lovely master en-suite, which has french doors leading to a further patio and further stunning views.
More about this property www.ocean-cottages.com/woolacombe-holiday-cottages/2-gull-rock/
Walk: the Old Railway Line – an easy stretch of tarmac pedestrian and cycle path that you can follow round to Ilfracombe 5 miles away, or beyond
walk details www.southwestcoastpath.org.uk/walksdb/139/#
Eat: The Red Barn in Woolacombe village – good pub food in this surfy beachfront pub that often hosts live music www.redbarnwoolacombe.co.uk/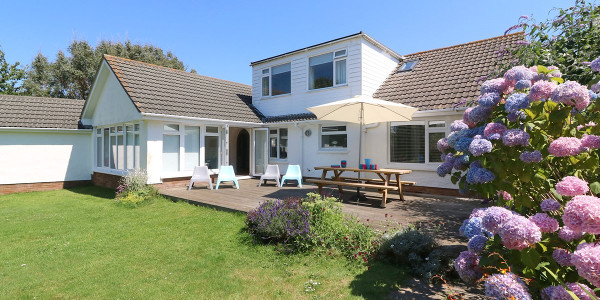 Sleeps nine in style: Eden, Croyde
The small, surfy village of Croyde is full of dog-lovers, and lots of beautiful holiday properties. This includes Eden, which has just had a total makeover – but don't worry, it's still very welcoming to dogs! It offers open plan seaside living in the heart of Croyde, with a large garden, wood burning stove, huge table football and private, hot outside shower, so there's no need to worry about any of you walking sand through the house!
Walk: Croyde beach allows dogs from October-April, and the less restrictive Woolacombe (see above) and Putsborough are a walkable distance round the headland, taking in spectacular views round Baggy Point along the South West Coast Path www.southwestcoastpath.org.uk/walksdb/26/
Eat: National Trust's Sandleigh Tearooms at the start of the walk to Baggy Point serves excellent cream teas, snacks and lunches, and welcomes dogs to the pretty garden seating area.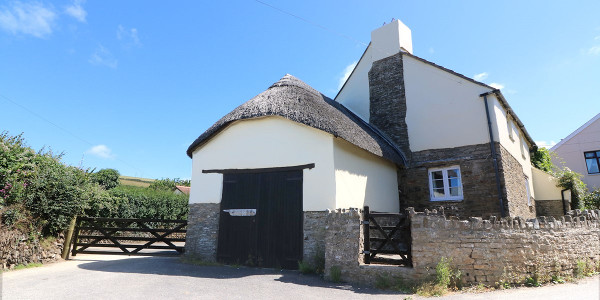 Thatched and cosy: Chuggs Cottage, Croyde
The owners of cosy Chuggs are open to welcoming more than one dog, which can be hard to find – especially in a cottage as pretty as this. Your dog will love sleeping off those long coastal walks in front of the cosy logburner – then running around again in the garden. Chuggs sleeps up to 6 people and is in the village near its dog-friendly pubs and cafes, but still just a short walk from the beach and dunes.
More about this property www.ocean-cottages.com/croyde-holiday-cottages/chuggs-cottage/
Walk: Saunton beach is around the headland from Croyde in the other direction, and allows totally unrestricted access for dogs on its 3 miles of golden sands – and they love to run in the dunes behind too. It's an easy walk from Croyde through coast and country from Croyde walk details: www.southwestcoastpath.org.uk/walksdb/106/
Eat: The Thatch, also in the heart of the village, actively welcomes dogs, and serves legendary nachos (and cider, of course!). www.thethatchcroyde.com/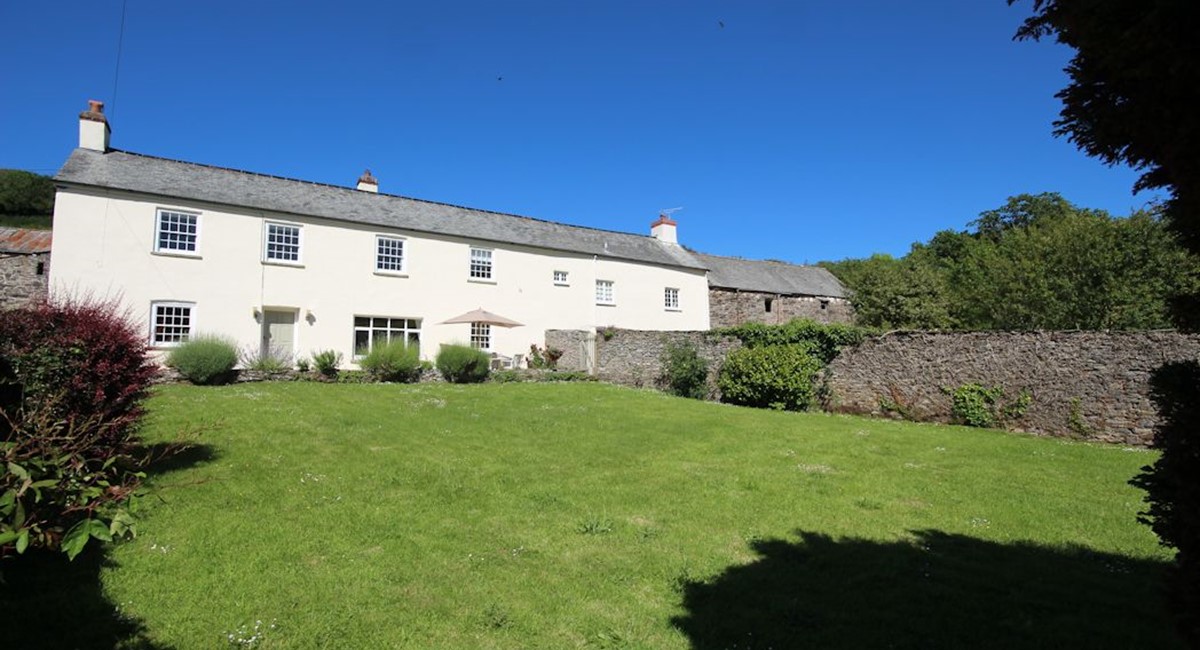 Traditional and spacious: The Long House, Georgeham
With an enormous walled garden and enough room to sleep 10 people, The Long House is a traditional Devon cottage, and a great place for a dog-loving family gathering. It's in a very pretty hamlet surrounded by countryside but near all the great beaches, and has a large kitchen and choice of dining areas, including alfresco on the patio. The owners love dogs themselves, so will happily welcome yours into their beautiful property.
More about this property www.ocean-cottages.com/georgeham-holiday-cottages/the-long-house/
Walk: Fabulous walks can be enjoyed throughout the surrounding countryside and Croyde Beach, Putsborough Sands and Saunton Beach are just a short drive away (approx 4 miles).
Eat: The King's Arms in Georgeham village serves excellent food and drink, and very much welcomes dogs, too – there's always a bowl of water out for them. www.kingsarmsgeorgeham.co.uk/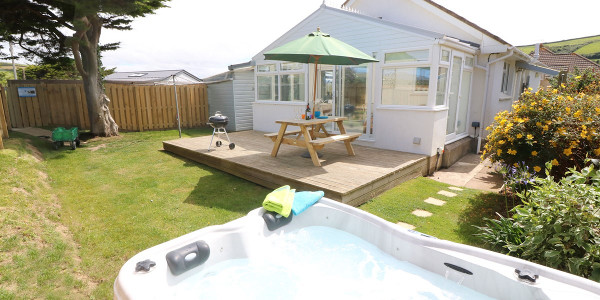 Hot tub and direct beach access: Amana, Croyde
Ocean Cottages has a number of dog-friendly properties with hot tubs, and Amana is a great example. You'll love sinking into the bubbles with a glass of wine after long days walking along North Devon's beaches – and though your dog won't be able to join you in there, he will be able to enjoy the doggy bliss of an outdoor hot shower! Amana sleeps up to 5, and is just behind Croyde's dunes, with direct access from the garden to the beach footpath.
Walk: It's easy to walk or drive to Braunton, then pick up The Tarka Trail, a well-maintained walking and cycle track which runs along the coast and countryside of North Devon for over 30 miles. www.devon.gov.uk/tarkatrail
Eat: On the other side of Bideford Bay the Tarka Trail runs by The Pier House, a great pub-restaurant that not only has stunning coastal views, but welcomes dogs to the extent that it has signs in 'dog language' – just for them! www.thepier-house.co.uk/