Everyone loves a nice, clean, happy dog! While regular at-home baths are a must for most dogs, regular trips to the groomer can also be important to assure your dog stays as healthy as possible. But a good groomer does more than just bathe and cut dog fur, they are trained to perform several helpful services that are a must. Explore all the benefits that a groomer can provide and learn how to find the best one for your pet!
What services do dog groomers provide?
A good local dog groomer should be able to provide a wide range of care services that can be tailored to meet the individual needs of each dog. Here are the most popular services that must be a part of any good groomer's skillset:
They should have the tools to fully clean and bathe any dog breed. This includes brushing out the coat, shampooing, washing, drying, and finally, fully trimming and combing out the coat again.
Using a variety of sanitized clippers and scissor sizes, dog groomers should be able to safely trim the fur around a dog's eyes, ears, private areas, and paw pads. While owners can try to maintain their dog's coat length, these parts are typically sensitive and are usually best handled by a professional groomer.
Groomers should also provide nail clipping services in a safe environment. This can be very helpful for many dogs who fear getting their paws touched or the noise made by a nail Dremel. Nail clipping is very important to avoid infection and other issues, but owners may not always be able to complete this task effectively and without risk.
A groomer should also be trained in inspecting a dog's ears and skin for any infection or irritation that could result in deeper problems. Not every groomer may be able to provide these services, but many are also trained to correctly brush dog teeth as well.
Finally, some dogs may require anal gland cleaning or will need specific services after coming into contact with a skunk, fleas, or ticks. These services may vary depending on the location or may also involve the assistance of a veterinarian if they are severe.
Some groomers go above and beyond adding in free clothing such as bandannas, treats, giving your dog mouth wash if they have stinky breath, collars, branded leashes of the groomer, and harnesses. The free gifts are also good for the shop to advertise free of charge.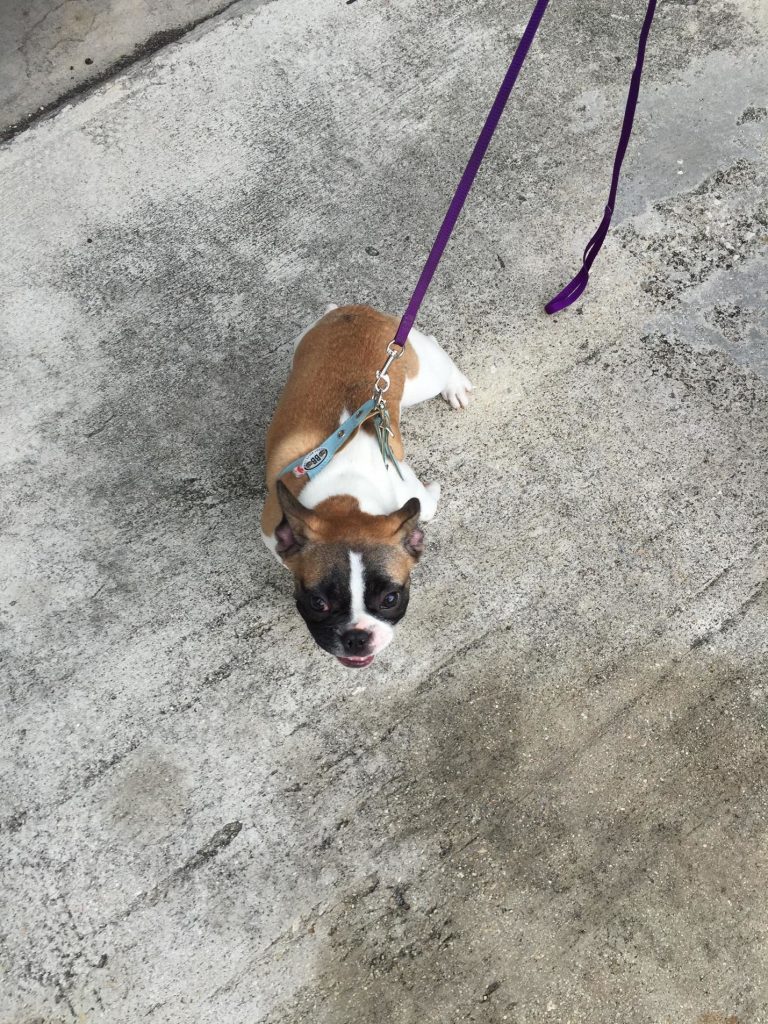 What should you look for when selecting a groomer for your dog?
There are many great groomers, but not everyone will be the best option for your dog. When searching for a new groomer, it's important to make sure that they are following best sanitation practices. This includes keeping all tools and workspaces clean and disinfected to keep all dogs healthy. Then check to make sure the groomer has the correct tools and extensive experience dealing with your specific dog type. Depending on the breed, some dogs will require unique tool sizes or services that should be perfected, to provide your dog with the best experience. A good groomer also needs to have safety devices in place to help with aggressive or anxious dogs. Even the best-behaved pets may lash out in fear when they are around the varied sights and sounds of a grooming shop. Keeping them, as well as the groomer, safe must be a top priority. Speaking of safety, talk to your groomer to make sure they are trained in dog first aid, just in case any serious problem occurs while your dog is getting groomed.
What are some other things to consider when looking for the best groomer for your dog?
You can also ask about and research any specific certifications or accreditations that the groomer has to help further direct your final decision. Even with the best-reviewed locations, a level of trust and respect must be built between each groomer and dog. Don't hesitate to try a different groomer if your dog doesn't seem to be connecting with its current service provider. This is normal and a professional groomer will completely understand. It's realistic to also be aware of location and price as well. If your groomer is too far away, it may make it harder to schedule and keep regular appointments, which are needed to prioritize your dog's health. There are many costs associated with owning a dog that must be considered, including trips to the groomers. Since this is a service that should be maintained, make sure you can find a groomer that will fit into your budget.
How frequently should you have a dog groomed?
The best frequency for dog grooming will vary, based on the breed and specific needs of your dog. Some show dogs may require multiple weekly trips to the groomer in order to stay in top shape. Typically, a normal pet of any breed could visit the groomer once a month and stay happy and healthy. But this may change if your pet has specific health needs or a coat that requires extra seasonal care. Talk to your groomer or veterinarian to determine the best frequency for your unique pooch!
Article Supplied