They say that a dog is man's best friend and if you are one of the estimated 8 million households that own a canine companion you'll know exactly why this is so true.
Dogs really do become part of the family so it's no wonder that more of us than ever are choosing to bring our pooch on holiday. While you can (thanks to pet passports) take them abroad we still think that renting a UK holiday cottage is the best way to go as there is usually plenty of outside space and no worries about a tricky flight.
Foxglove Cottage – North York Moors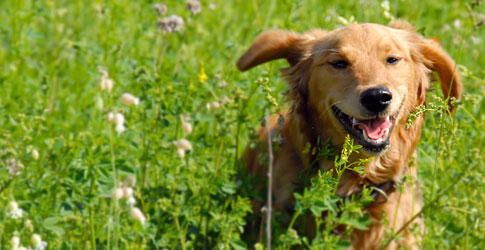 Prepare in advance
Lesley Houghton regularly travels with her dog (a new addition to the family in the past year) and recently stayed at the School House in Sandsend. She says 'preparation is key really, make sure you have as much information on the cottage and surrounding area before you set-off and make a list of everything you will need'.
Sandsend
We think that is pretty sound advice and a bit of forward planning should ensure your holiday goes smoothly and your pet stays happy and healthy. Here are 8 top tips:
Check the cottage is suitable for your pet
It really goes without saying that you will need to select a dog-friendly holiday cottage but you should also check the size of the property is suitable for your pet and there is enough outside space for your particular breed.
It is a good idea to check if there are any restrictions such as areas that are off-limits for pets (you don't want an award winning flower border to get trampled or cream carpets to be ruined) or a limit on the numbers if you have more than one.
Plan your journey in advance
Remember that if you are making a long car journey that you take a bowl and some water with you and have plenty of stops (particularly if it is a hot day). Make sure your dog can stretch their legs and get some fresh air at regular intervals. If your dog is not used to travelling it is a good idea to try them on some shorter car journeys beforehand.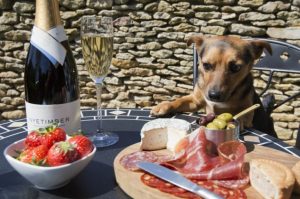 Don't run out of supplies
Try and make a checklist of everything your dog might need before you set-off and make sure you have enough food, treats, any medication and the all-important poo bags. You'll also need to take your dog's lead and collar which should have a tag containing your contact information.
If you don't want to take too much stuff with you it's a good idea to check where you can purchase dog food locally (particularly if you stick to particular brands) and what items the cottage will have available.
Make the cottage a home from home for your dog
Your dog may be unsettled when they first arrive so it is a good idea to take as many of their things as possible. Familiar items such as your pet's own bed, blankets and toys can make a big difference as the last thing you want is for them to feel worried and upset.
Show them their new surroundings and let them explore (where appropriate) so they start to feel at home as soon as possible.  Dogs tend to be creatures of habit so stick to their routine of feed and walk times where possible.
Get the contact details of a local vet
Hopefully you won't need to contact a vet on holiday but if your pet does fall ill or get hurt while you are away it is good to be prepared. Research some vets that are close to your cottage and keep their details handy throughout your stay.
It is also worth taking your pet to your own vet before travelling as well just to make sure they have a clean bill of health and are fully up-to-date with vaccinations and other treatments such as worming.
Plan your trips around your pet
We are pretty sure your holiday will involve getting out and about so make sure any places you plan to visit are also dog friendly. Lots of Yorkshire attractions are happy to allow dogs though you will probably have to keep them on a lead. Check out The Good Dog Guide for more information.
Quite a few pubs will also allow dogs offering drinking water (and occasionally even doggy beer!) but it is a good idea to find out which ones will do this before your holiday.
If you plan to venture out without your pet, ensure it is OK to leave them alone in the property and that you aren't gone for too long. You don't want to come back to any nasty surprises! If you do plan to be out for the day you may be able to find a local dog-sitter to help out but again it is best to organise this before you set off.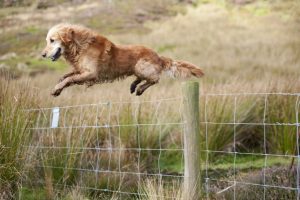 Make sure your dog is well trained
You should probably ask yourself how well behaved your dog is before taking them to any cottage. Spending some time on dog training before your holiday (whether you do this by yourself or a local class) is a good idea.
Try and ensure your pet can obey some basic commands – even if this is just Sit and Stay.
Keep your dog safe
The last thing you want is for anything to happen to your precious pet so make sure the cottage and garden are secure and there is nowhere for them to escape (it is a good idea to have them micro-chipped though in case they do go missing).
Going for a walk with your dog through beautiful countryside is just one of the perks of taking them with you but it is important to be vigilant. If you take them off the lead make sure there are no dangers about such as cliff edges, streams or wild animals.
With these tips you should have a great holiday with your pet.
Check out the dog-friendly cottages available or call the team on 0844 736 6276.