Travelling can be a stressful time. It can be even more stressful when you have a dog with you. Whether you are travelling locally or abroad this summer make sure you have the essentials that will make your journey much smoother.
Bedding/Dog Beds
Comfortable bedding is a must have. Dogs are like humans, they love to sleep. More often than not summer travel means car journeys, long ones. With a large dog in the boot or a small dog on the back seats of your car, or even both, dog bedding can make travelling with your pet much easier. We recommend if possible taking your dog bedding from home with you. This can make the dog feel comfortable and safe having the scent of home on their travels. There are a wide variety of beddings and dog beds out there. There may be one just perfect for your dog but take time to trial and error. Not every dog likes cushions, thrones or basket beds, they are a very picky animal.
Food and Water
The most important thing to remember when travelling with a pet is food and water. Long car journeys can put extra stress on your dog. He might be sleeping happily in the boot but inside he is probably dieing for a toilet break and a drink like we all are after a long journey. If you are struggling for room when you've packed up the car then look into foldable water bowls. These bowls take up no room at all, provide your dog with a drink and are easily washable.
For food, make sure to take treats and chews that will keep your dog entertained throughout your holiday. However, if you are travelling abroad make sure to check what you can and cannot take with you. There is nothing worse than having to leave behind all your dogs treats and food at the airport whilst your dog drools on in the distance.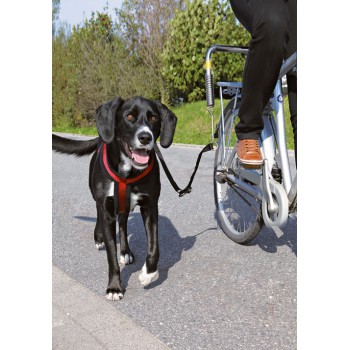 Accessories
We have covered the three essentials food, water and bedding. Now all you need is the extras that may be essential, they may not, but they can come in handy on your travels.
First up is the slightly unconventional dog strollers. Suited more towards the smaller dog unless you have the muscles to push your great dane round the park. Strollers can take up a bit of space in the car but if your small dog isn't that great at long walks and you are planning to do a lot of exploring on your holiday then these are perfect for you. Let your dog see the sites with you without having to carry him or her everywhere.
For the larger dog Biker Sets are ideal. These leads are used when you are cycling with your dog running alongside. They provide safe leading on a bike because your dog's sudden tugs are softened by the integrated spring safety. If your dog decides to make a dash for it then at least you will not be going with them. These Biker Sets mean that you can enjoy the sites on your bike and exercise your dog at the same time.
When the car is packed, the dog is sleeping happily and the kids are covered in suncream, it is time to enjoy your holiday!
For more tips, travel essentials and accessories then visit our page here.